Most images are about Southern surfers. Tanned. Happy. Wearing boardshorts all day. But this ain't about flip flops. This is about passion. About true love - no matter how cold the water is. Our story is a Northern story.
Clothing
Relaxed, fair produced t-shirts, sweatshirts and hoodies for North and Ocean lovers. Handprinted. High quality, long lasting. Beach approved.
Apparel
Accessoires
Cosy merino beanies, finest fisherman hats, knitted in Germany, bags for all the stuff you need to carry to the beach or supermarket to avoid shitty plastic.
Accessoires
Things
Beautiful handmade enamel cups, fairly produced in Spain, amazing prints on recycled paper and fine art letterpressprints for your van or home.
Nice things
HANDMADE CERAMIC
Ocean cups for perfect mornings
Everyday starts better with coffee and our new handmade ceramic cups. Meet the wonderful artist Sarah Porsch in our interview.
Interview
PROJECTS
Ideas shaped by cold water
We are stoked by waves and ideas. We support social and sustainable projects with ideas and donations.
Read more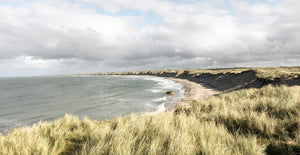 Fair produced & 100% organic cotton
Organic shirts, beautiful prints, enamel cups and cozy woolen hats - find your durable companion for the beach and the city-life.
The material of our choice comes from non-genetically modified plants and grows without the use of chemicals. It needs less water than conventional cotton and is incredible nice and cosy on your skin. Try it!
Fair payment, humane working conditions and no forced child and slave labor are our standards. We believe in Karma and ethical treatment of our workers is the base of our products so you can enjoy them regardless.
As our superpower is creativity and we want to do good we decided to support good causes, social projects and NGOs with our knowlegde and brainjuice to grow your power to help. Let's make the world better together!
artist
Tomas Grootveld
Meet Dutch surfer and photographer Tomas Grootveld, the person behind »I sea stories« and our shirt »The Peak«.
More
Waterkoog sustainable surf wear
Sustainable fair surf fashion for north and ocean lovers. Salty essentials made of organic cotton, pure new wool. Handprinted with eco colors. Cozy, modern, high quality bio sweatshirts, t-shirts, surf-shirts, bags, beanies, hats and more made of great material. Our fineart prints and art letterpress prints are from recycled or certified paper.
We offer vanlife stuff like sustainable enamel cups and postcards.We always have surfers, windsurfers, kitesurfers and wingsurfers in mind while creation new stuff.
Blue ist the new green. Slowfashion for surfers and ceanlovers. Good for you and good for mother nature. Our goal is to leave clean waves for future generations. Our planet rocks! Shaka & hang loose!
Be part of the instagram community: